Pin It Now!
For those who used to make soya milk at home you will have leftover okara. I used to throw away but not anymore. After knowing okara can be reused I kept it whenever I make soya milk. I will keep in freezer if not consume within 3 days. If you google you will surprise how humble okara can be used in many recipes. These include mantou (steamed bun), bread, fried eggs, butter cake etc. I had try okara bread and mantou which I going to post today and the subsequence post.
These okara buns are using straight dough method. It requires longer time to prove after shaping. It took 1 hour and 15 minutes instead 45 minutes. I believe the long proving time gave French bread like texture with mild taste of soya beans. If you happen to bake this okara bread does not omit the white sesame seeds topping as it really gives some crunch texture to it.
This is an easy way to divide dough
Shaping with a chopstick. Brush with egg whites and coat with sesame seeds
Recipe adapted with minor modification from Carol
2 tablespoons brown sugar
180ml homemade unsweeten soya milk
2 tablespoons grapeseed oil
Few tablespoons white sesame seeds
Methods: (with stand mixer)
1. Place all ingredients (except oil) into kneading bowl. Knead until form dough.
2. Add oil and continue knead till the dough can be stretched to form a "window panel". Cover and leave aside to rest for 1 hour and 15 minutes.
3. Turn dough out onto a well-floured work surface. Press the dough and form into round shape (try to get even thickness). Divide the round into 8 equal sizes. Shape each portion into round. Cover with wet cloth and leave to rest for 15 minutes.
4. With a chopstick, make a line in the center of round ball. Dust the chopstick before making the line to prevent from sticking. Brush egg whites and coat with white sesame seeds. Place in lined baking pan. Spray water on the shaped buns and leave to rest for an hour.
5. Before baking, spray water again on the buns. Bake in preheated oven at 170C for about 18 minutes or till golden brown.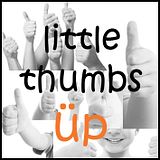 Next month will be me hosting

November 2013 The Little Thumbs Up

event with Oats theme. Oats from whole oat groats, steel cut oats (Irish oatmeal), Scottish oatmeal, rolled oats (regular or quick rolled oats) and even oat flour. Do link up your recipes and have fun!