Pin It Now!
These scones are actually inspired by scones from

Zoe, Bake for Happy Kids

and

Kitchen Flavours

. It is part of my mission to use out old stuffs too :D Dates has been sitting in my fridge almost a year! And a little wholemeal (not sure why and when l left it?) These are just perfect for these dates scones.
Some flour is being sprinkle on top therefore these scone are quite pale once baked. How to check are they done? Check by looking at the scone base. It is cook through once the bottom is evenly brown.
Ingredients:
2 cups all-purpose flour, plus 1 tablespoon extra for coating (chilled)
1/2 tablespoon baking powder
1/2 tablespoon cream of tartar
15g wholemeal
25g sugar
1/4 teaspoon salt
100g cold unsalted butter, cut into chunks
100g pitted dates
* cut into small pieces and coat with the 1 tablespoon flour. Set aside.
120ml milk




Methods:
1. In a large bowl, sift all dry ingredients together. Rub in the butter until the mixture resembles fine crumbs.

Add in coated dates and mix well.



2. Add in milk into dry ingredients then fold to form the dough into soft ball. Lightly knead everything together and place on floured working surface. Shape the dough into long rectangle, flattening the top to form a thickness about 4-5 cm.



3. Cut the dough into fat little triangles with floured knife. Sit the scones closely on a prepared baking tray and dust them with a little extra flour.



4. Bake in preheated oven 220C for 15-18 minutes or till brown. Remove and cool on wire rack. It is best to serve warm.
I'm sharing this recipe with a link to
Lavender and Lovage
and
What Kate Baked
for
Tea Time Treats for July.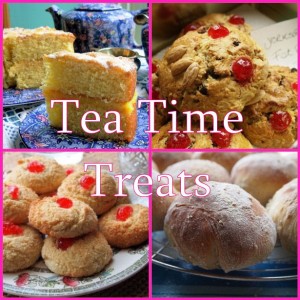 Have a nice weekend!